Posted By

Snook

On

December 26, 2014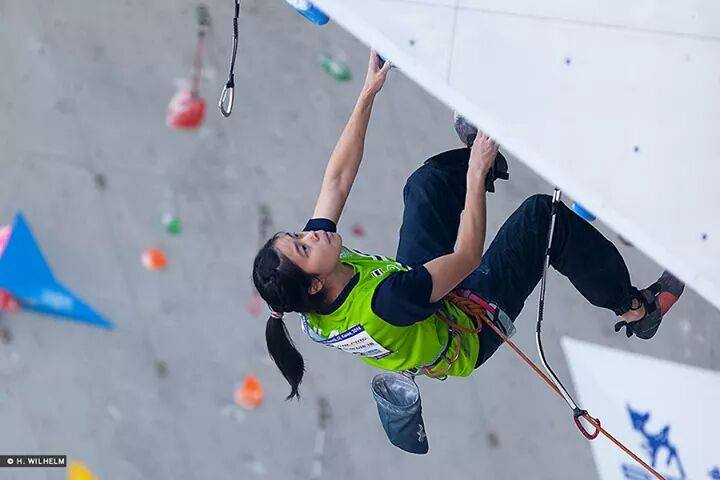 คงจะไม่มีนักปีนไทยคนไหนที่ไม่รู้จักกับ น.ส.ปุณฑริกา ธัญญะวานิช หรือมีณ นักปีนทีมชาติไทยที่ได้ไปคว้าตำแหน่งที่ 41 ในรายการประเภท lead ที่ World Championship มาแล้ว มีณได้เริ่มปีนตั้งแต่อายุเพียง 15 ปี ตอนนี้นอกจากต้องฝึกซ้อมตลอดและต้องเดินทางไปแข่งทั่วโลกแล้ว มีณก็ทำงาน part-time ที่ Rock Domain Climbing Gym ในกรุงเทพด้วย ตอนนี้มีณเป็นนักกีฬา sponsor ของ Chiang Mai Rock Climbing Adventures
(English version available below)
ปีนี้มีณได้ไปแข่งมาหลายรายการมาก ชอบการแข่งที่ไหนมากที่สุด
ชอบรายการของ ASIAN UNIVERSITY CLIMBING CHAMPIONSHIP 2014 เมื่อ 1-7 กรกฎาคม 2557 ได้อันดับ 1 Boulder และได้อันดับ 3 Lead
มีณชอบอะไรกับการแข่งปีนหน้าผาและกีฬาที่มากที่สุด
ประสบการณ์ปีนี้ที่ได้ไปแข่งหลายๆที ได้ทั้งภาษา เพื่อน และะ การซ้อมอะไรที่ใหม่ๆ ปีนที่แปลกใหม่ บรรยากาศสะอาด โล่ง ระบบต่างๆของคมนาคม เมืองนอกทันสมัย สะดวกต่อการเดินทางท่องเที่ยวคนเดียว ยิ่งรายการใหญ่ๆ อย่าง World Championship ที่ Gijon, Spain นี่ อลังการมาก เจอนักปีนระดับโลกมารวมกัน รู้สึกประหม่าและตื่นเต้น มีอายบ้าง เพราะความสามารถของเรายังเทียบเค้าไม่ได้ แต่ถือว่าเป็นตัวแทนของประเทศไทยไปแข่งขัน จึงทำเต็มที่
ปีนี้เรื่องผิดหวังอะไรรึเปล่ากับการแข่งขัน
ผิดหวังกับ Asian championship ที่ Lombok, Indonesia เนื่องจากมีอาการบาดเจ็บที่ไหล่ ในวันแข่งรอบชิงวันสุดท้าย ปีนแล้วไม่เต็มที่เลย ปีนจนเวลาหมด เสียดายเหมือนกัน รายการนั้นได้ที่ 6 Lead
ปกติแล้วมีณฝึกซ้อมอย่างไร แล้วฝึกอะไรเป็นพิเศษรึเปล่าก่อนที่จะไปแข่ง
เรื่องฝึกซ้อม หากไม่มีช่วงเก็บตัวนักกีฬาทีมชาติ ส่วนใหญ่ซ้อมเอง มีไปที่ ฟิตเนส ว่ายน้ำและเล่นกีฬาอื่นบ้าง จากนั้นจึงปีนหน้าผาจำลองที่ Rockdomain
นอกจากปีนหน้าผาแล้ว มีณชอบทำอะไรบ้าง
นอกจากปีนหน้าผาแล้ว ถ้าอยู่บ้าน จะนอน เล่นเกม อ่านการตูน เหมือนคนปกติ แต่ถ้าออกไปข้างนอก ก็จะนัดเพื่อนไปดูหนัง ไปเล่นเครื่องเล่นสวนสนุก พวกผาดโผน เสียวๆ
มีณได้เดินทางมาหลายประเทศแล้ว รู้สึกประทับใจที่ไหนมากที่สุด
ที่ประทับใจคงจะเป็น Sweden ได้มีโอกาสซ้อมที่โน่น ประมาน 2 อาทิตย์ ถ้าเป็นไปได้ อยากกลับไปปีนอีก เพราะได้รับความช่วยเหลือจากพี่เจม และ ฮารรี่ Harry ซึ่งคอยช่วยสอนเทคนิค การซ้อมให้ด้วย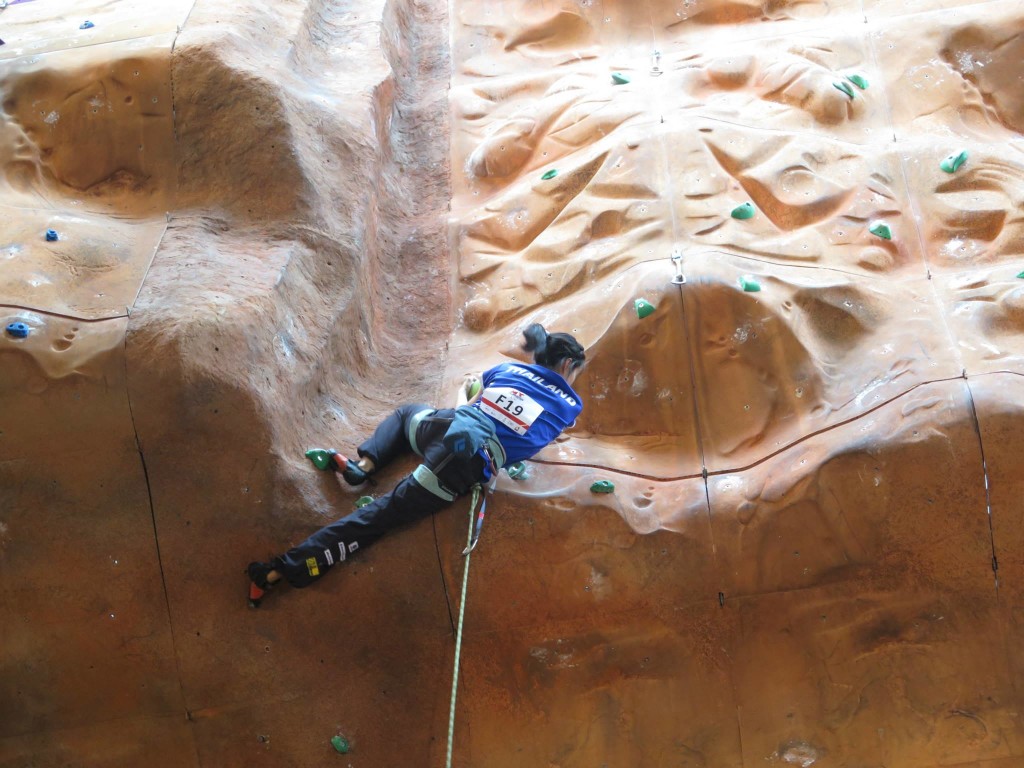 ถ้าสามารถไปไหนก็ได้ มีนอยากไปปีนหน้าผาที่ไหนมากที่สุด
USA เพราะไม่เคยไป อยากไปปีนที่โน่นสักครั้ง
เท่าที่ทราบมีนปีนเพื่อการแข่งขันเสียส่วนใหญ่ แล้วโดยส่วนตัวชอบปีนข้างนอกรึเปล่า
นอกเหนือจากงานแข่ง ก็จะไปปีนข้างนอกบ้าง ได้บรรยากาศอีกแบบ ชอบอากาศข้างนอก ธรรมชาติด้วย สวยมากๆ เคยได้ไปปีนเขาจริงหลายที่อย่างเช่น ที่ Crazy Horse Buttress ที่เชียงใหม่ กระบี่ และก็สระบุรี แต่ว่าชอบเชียงใหม่มากที่สุดเพราะว่าอากาศไม่ร้อน
มีณตั้งตารอการแข่งอะไรในปีหน้ามากที่สุด
ปีหน้ายังไม่มีแผนที่แน่นอน ยังไม่มั่นใจคะ
ตอนนี้มีณมีเป้าหมายอะไรให้ตัวเองที่อยากจะทำให้ได้ในปี 2558
ปี 2558 อยากแข่ง tournament ระดับโลก เก็บ Ranking ฝึกพัฒนาฝีมือมากขึ้น
โดยส่วนตัวแล้วอยากให้การปึนหน้าผาในเมืองไทยพัฒนาไปในทิศทางไหน
อยากให้พัฒนาปีนหน้าผาในประเทศไทยในเชิงแข่งขันกีฬาให้มากขึ้น สร้างเด็กรุ่นใหม่ เสริมสร้างวิธีการออกกำลังกายอีกกีฬาหนึ่งคะ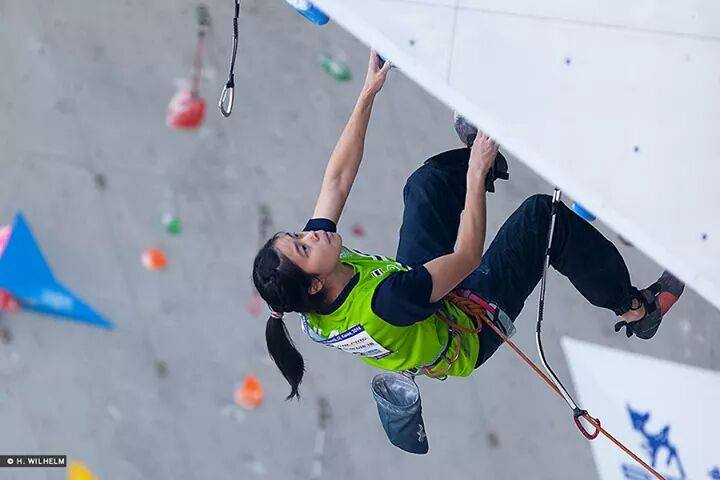 There are probably only a few Thai climbers who have never heard of Puntarika (Mean) Tunyavanich before, who represented Thailand at the World Championship in Gijon, Spain this year and was able to snatch the 41th place in lead climbing. Mean started climbing when she was just 15 years old and climbing has been a big part of her life since day one. In addition to training hard and preparing for competition season and attending competitions all around the world, Mean also works part-time at Rock Domain Climbing Gym in Bangkok and is also a Chiang Mai Rock Climbing Adventures' official sponsored athlete.
What is your favorite competition from this past season?
My favorite is probably the Asian University Climbing Championship, which I was able to place 1st in bouldering and 3rd in lead climbing.
What aspect of competition do you like most and what about climbing that attracts you? I really love the opportunity to get to travel to various places and getting to know the language, making new friends and getting to train and climb in new environment and places. I am always fascinated by public transportation in other countries particularly in Spain where it was very convenient to get around. I also got to meet with many other world class climbers at the World Championship. I was really nervous because I was really afraid to compare myself to them but I was so happy to get to represent Thailand and did my best.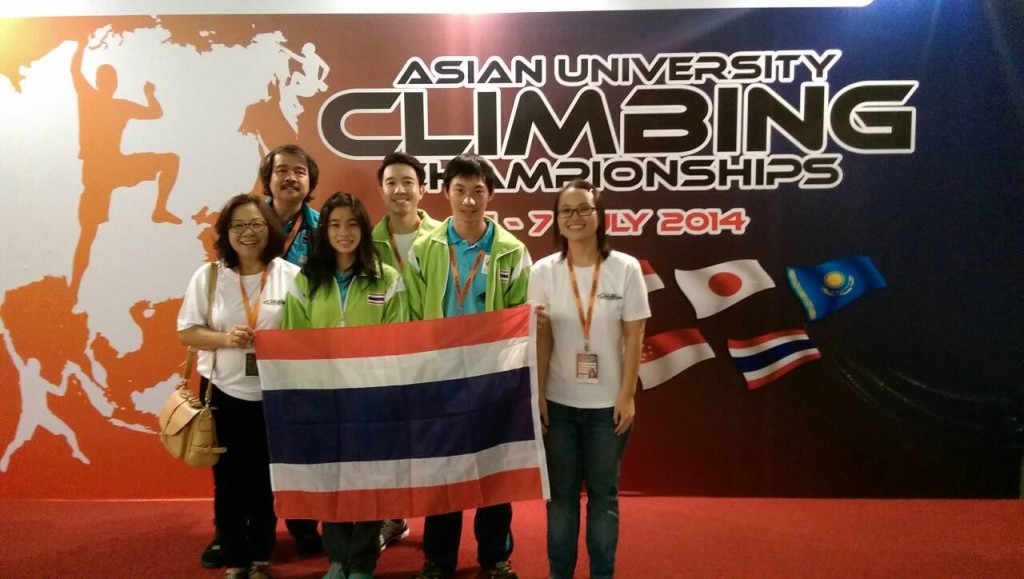 What has been your favorite country?
I was impressed with Sweden the most because I got to spend two weeks there training with Harry and James who were extremely helpful with offering new suggestions on training routines and techniques.
If you can go climb anywhere, where would you go? I'd love to go the U.S. because I've never been.
Were you disappointed with anything this year?
I was a bit disappointed about Asian Championship in Indonesia because my shoulder hurt quite a bit on the last year, so I couldn't perform at my best and ran out of time. I placed 6th at that event.
How do you train for competitions?
I train with the team sometimes but usually I train alone at the gym. In addition to climbing at Rock Domain, I also work out at a fitness center, swim and play other sports.
Beside climbing, what else do you like to do?
If I'm home, I like to play games and read cartoon like most people. I also like to go to movies and I really love amusement parks and roller coasters.
Do you get to climb outside much?
I do climb outside once in a while. I have been to Crazy Horse in Chiang Mai, Krabi and Saraburi. I really love climbing outside because of the outdoors, the clean air and the environment. My favorite place is Chiang Mai because it's cooler than other places in Thailand.
What are you looking forward to the most next year?
Not sure yet. Nothing is set and planned.
What is your goal for 2015?
I want to go to all the world class tournaments, improve my ranking and train harder!
Personally, which direction do you want to see climbing go in Thailand?
I want to see the competition aspect of the sport to grow more in Thailand. I want to see a new generation of young competitive climbers.