Introduction to Caving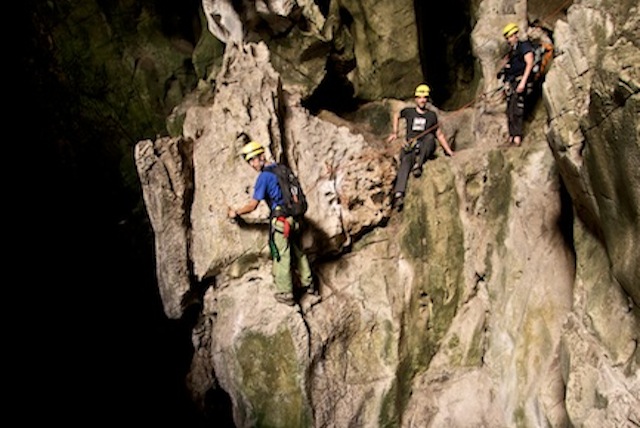 At A Glance...
| | |
| --- | --- |
| Includes | Instruction, round-trip transportation from CMRCA to Crazy Horse Buttress, equipment, lunch, water, insurance, coupon for 20% off anything at the CMRCA adventure store, one day bouldering gym pass, and discount on additional courses. |
| What to bring | Sports shoes and comfortable clothing that you don't mind getting dirty! |
For more information or to book more than 6 weeks in advance please contact us.
Scrambling around inside of caves is a lot of fun, but what do you do when you come to a hole in the ground? A big hole?
This course will help you find the answer to that question. Develop the skills to assess an opening, build an anchor, and descend into a cave safely (and get back out!). In this course, you will be taught Single Rope Techniques (SRT) in the Anxiety State Crisis Cave at Crazy Horse Buttress, a beautiful and massive cavern that lies in the heart of the mountain.
This caving course is a true introduction, and will give you a survey of the basics of caving. In addition to the technical rope aspects, our instructors will introduce you to the local geology and and explain the formation of the fantastic flow stones, stalactites, and stalagmites that will surround you all day. The goal of this course is for rigorous, comprehensive, technical instruction to combine with a beautiful backdrop to teach SRT in a safe, awe-inspiring, and fun way.
Your day will begin with basic rigging techniques as you prepare your equipment and rig the ropes for your 40 meter descent into the earth.  Once inside the cave, explore massive caverns, crawl through tight squeezes and make your way deep into the hillside that many never see.  Enjoy a delicious Thai lunch of sticky rice, northern Thai sausage in the company of bats by the light of your headlamp.  Finish your day by ascending the rope back to the surface using SRT .
CMRCA's Introduction to Caving course, or equivalent experience, are prerequisites for the Exploratory Caving course.
Duration of Course
Itineraries are not set in stone and can be adjusted according to a clients needs. A sample itinerary is as follows:
08.00 – 08.15: Arrive CMRCA and receive equipment
08.30 – 09.30: Transport to Crazy Horse Buttress
09.45 – 12.30: Morning Caving Session
12.30 – 13.30: Lunch in Cave
13.30 – 16.00: Afternoon Caving Session
16.00 – 17.00: Return to CMRCA
Additional Information:
Testimonials
Hear from our past adventurers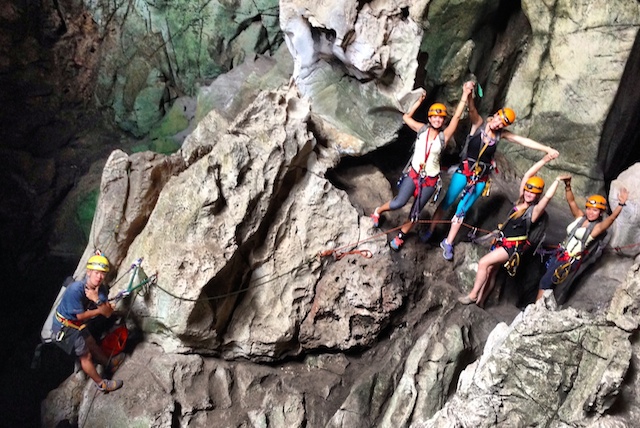 CMRCA is the best!
I can say that going out to Crazy Horse Was by far one of the highlights of my trip. Ooan was a spectacular guide! We felt safe the entire time. He was knowledgeable and helpful. The Caving was beautiful, challenging(in a good way), and so much fun! I would highly recommend this company and the services they provide!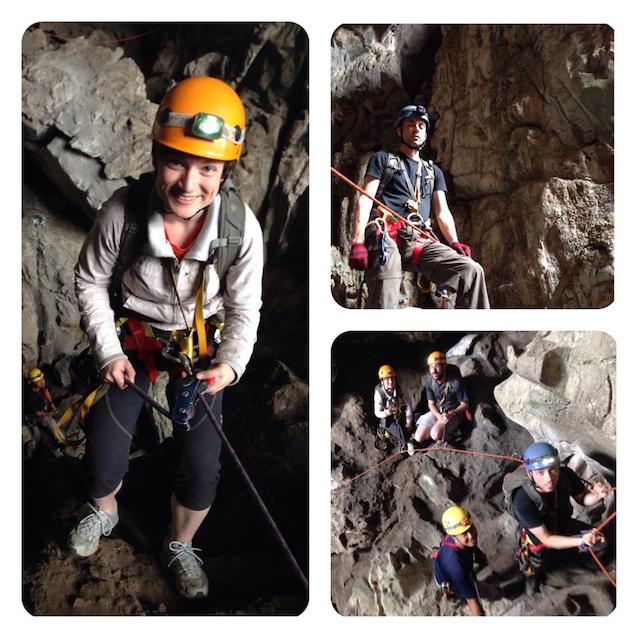 Intro to Caving was great!
My friend and I (two Americans in our early 30s) took the Intro to Caving class, and it was great. Our group was only three travelers and two guides, Ooan and Bo. Ooan and Bo were very professional and overall very nice guys with a lot of patience. The three of us felt very safe knowing that we were in good hands with the guides and the equipment. What a cool thing to do while in Chiang Mai! The cave was amazing! There a few climbs/repels/walks at the beginning of the cave before the big drop into the main part, which was quite a ways down! (You need to save your energy for the way back up!) Once in the main part of the cave, we ate lunch and took our time exploring the different formations – our adventurous buddy from Germany took a walk with one of the guides through some water to a different part of the cave where she saw millipedes and interesting spiders. Learning and using the equipment was a lot of fun. Be prepared to get a massage afterwards!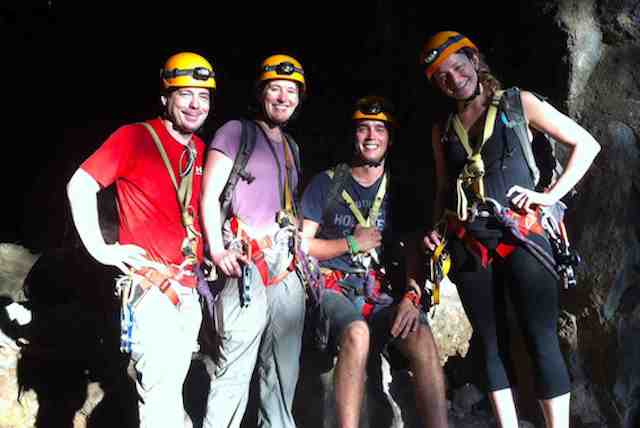 "fun adventure, great company"
My caving trip with CMRCA was the best thing I did in Chiang Mai! The trip was well- organized, and allows you to see some incredible sights deep in the earth. Cannot say enough about the staff; the trip is led warm, knowledgable and safety oriented instructors who are passionate about the sport. I would highly recommend this trip to anyone, especially those who concerned with spending their money with companies who are socially and environmentally responsible- as this is a far departure from your regular tourist operation. Definitely worth checking out!!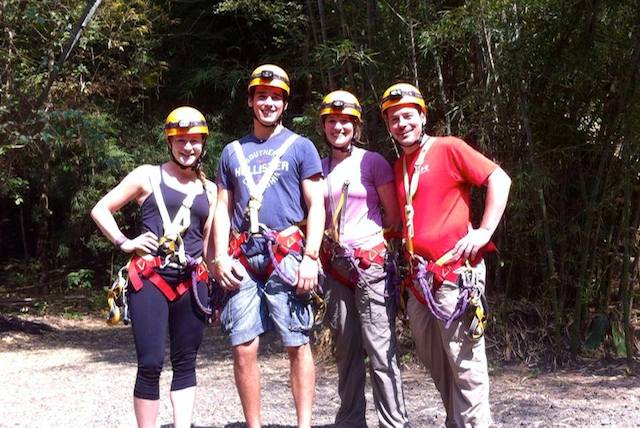 Intro to Cave Climb
My husband and I went out Thursday for the first time with Mario and P. It ended up being four of us to two guides. It was very well organized, sustainable,no trace left behind attitude. Lunch, water and snack provided. The lesson took half the day and was thorough. We were able to inspect the equipment and lines/ropes. Instructors not only helped, supported but took over if you couldn't recall your next move. The cave ascend is 30 meters. Descending or repelling is a non issue. The climb back out however is strenuous for first timers. You will sweat and be dirty and gain a full body workout. We loved it. Saw amazing cave interior, bats, spiders, and growing formations. The leaders are very knowledgeable about the area. Safety was a priority. Highly recommend this outfit. They were actually getting feedback from a US AMGA climbing guide while there. Top notch. Climb, cave or boulder check them out.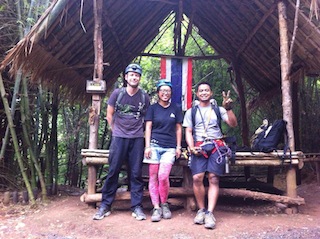 Introduction to caving with CMRCA
After climbing with CMRCA several times I wanted to try the caving. "Introduction to caving" takes a full day, and was a great experience.
– Location is the same as for the climbing, Crazy Horse Buttress about 30-45 min driving from CM. CMRCA provide the transport, lunch, drinks and all gear, including backpack.
– You start outdoor getting basic training in using the equipment for ascending and descending. Different equipment is used from "regular" rock climbing, and the harness is a bit more uncomfortable.
– After training session completed you go into the caves, some minor ascends/descends/traverses first before the big drop with 25-30 meter rapell down into the main cave. Quite cool to descend into the darkness at the bottom. Well inside you leave the harness and equipment and walk around the cave, where you learn about stalagmites, stalactites, and other formations, how the cave system is formed, and the animals living inside.
– After a sightseeing of the cave you have your lunch and then ascend back up.
I think it was an awesome experience with a great mix of learning about the techniques and gear used for caving, and learning about the geology and ecosystem of the cave.
The main ascend up from the cave is a bit hard physically, so you will definitely break a sweat. But not to worry, the guides can tell during the training session if you are capable, and if not may offer an easier alternative.
The cave is quite wide, so no claustrophobic feeling. As always with CMRCA the safety is taken extremely well care of and the guides are professional. Highly recommended!