Chiang Mai Rock Fest
At A Glance...
Includes
Event admission, Lunch, Dinner, 1 raffle ticket, and 1 Reel Rock 12 movie ticket, Good Times!
What to bring
If you attend the Crag Clean Up wear clothes to work in and a change of clothes is recommended. There will be showers available to clean off.
Cost
300 THB
Available On
Registration is Now Closed!


(subject to change)
The 1st Chiang Mai Rock Fest brings together three incredible events for an unforgettable day of community, climbing and celebration. This community focused initiative creates the opportunity to connect with the climbing community while  engaging with the local community in Mae On as we come together in an effort to clean up our climbing area and celebrate 15 years of partnership.  Whether you are an expert climber or have never climbed a day in your life, join us as we #LiveAdventure, #PracticeSustainability and #CommitToCommunity together.
All proceeds from the event will go to purchase much needed technical rescue equipment for the Mae On volunteer rescue department.
Crag Clean Up
Come together for the 14th annual Crag Clean Up Day as we share our love for the place that gives us so much by picking up trash, restoring damaged trails and improving the area.
Live Adventure
Come together to #LiveAdventure at Crazy Horse Buttress.   Choose from cave exploration, rock climbing, or the famous Anxiety State Crisis Cave tyrolean traverse. This is a fantastic opportunity to learn something you didn't know about the geology of Crazy Horse, or try a tyrolean traverse for the first time. And as always, you can sample the luscious limestone and #ClimbCrazyHorse.
CMRCA 15th Birthday Celebration
Have you ever wondered what Crazy Horse looked like 15 years ago? Who bolted the first route? What happens behind the scenes?  Join us to celebrate 15 years of climbing and adventure with CMRCA as we look back and share the story of Crazy Horse with presentations from the founders and key members of the Mae On Community. A tasty Thai style dinner and cake celebration help make this an experience not to be missed.    
Reel Rock 12 Screening
Cap the night off with  the top adventure climbing films of the year. For the first time ever this event will take place in our fantastic community with great prizes, great people, cold beer and the annual Reel Rock Raffle for great prizes
Event Schedule
08:30-09:00 – Registration @Crazy Horse Buttress
09:00-12:30 – Crag Clean Up
12:30-13:30 – Lunch
13:30-16:00 – Live Adventure
16:00-16:30 – Transfer to Celebration Site @Mon Khao Kwang
16:30-17:30 – 15th Anniversary Registration
17:30-19:30 – CMRCA 15th Anniversary Celebration
19:30-22:00 – Reel Rock 12 Screening
22:00-22:30 – Closing Ceremony
How to Register
Registration can be done online by clicking the "Book Now" button above or in person at the CMRCA Adventure Store.
Full Event:  350 THB
Crag Clean Up, Live Adventure, CMRCA 15 Year Anniversary and Reel Rock 12.

Includes Lunch, Dinner, 2 free raffle tickets, Live Adventure equipment
Crag Clean Up / Live Adventure Only: FREE
Crag Clean Up and Live Adventure activities

Includes Lunch and Live Adventure equipment
CMRCA 15 Year Anniversary Only:  200 THB
CMRCA 15 Year Anniversary activity

Dinner
CMRCA 15 Year Anniversary / Reel Rock 12 Only: 300
CMRCA 15 Year Anniversary and Reel Rock 12 Activities

Dinner and 1 free raffle ticket
Getting There
Chiang Mai Rock Fest will take place in beautiful Mae On, home to Crazy Horse Buttress and our valued local partners and communities. Mae On is a short 45 minutes East of Chiang Mai and can be accessed easily by car or motorbike.  Please see below for information regarding the events locations.
Crazy Horse Buttress – Home of our climbing area this will the location for Crag Clean Up and Live Adventure Activities.  For direction please follow this link: Directions to Crazy Horse Buttress.
Mon Khao Kwang – One of our partners located a short walk from Crazy Horse Buttress with delicious food, showers, and plenty of space for the festivities.  For directions please follow this link: Direction to Mon Khao Kwang.
Need A Ride?
CMRCA can arrange round trip transportation to the event so you can participate fully and don't need to drink and drive.  If you want to book transportation, make sure to add it to your order and select the times you prefer during the booking process.
Testimonials
Hear from our past adventurers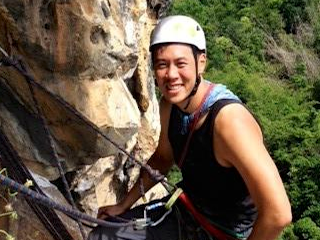 Safe, highly trained, lead climbing experience
I had two days of private guiding and instruction for lead and multi-pitch climbing. I have done it before, but not often enough to feel comfortable going on my own. My guide, Gee, was very thorough and knowledgeable about mountaineering and multi-pitch climbing. He was very safe and he executed proper technique with his anchor and rope settings. While this group costs more than the competitors group, I was able to observe Gee's technique against the other outfits guides and Gee was much safer and practiced under the Colorado Mountain School (US) standards. On the final day, I was able to complete a 4 pitch climb to the top of Crazy Horse. It was a great two days and I recommend this to those who want to climb and to improve their skills. Thanks CMRCA and Gee!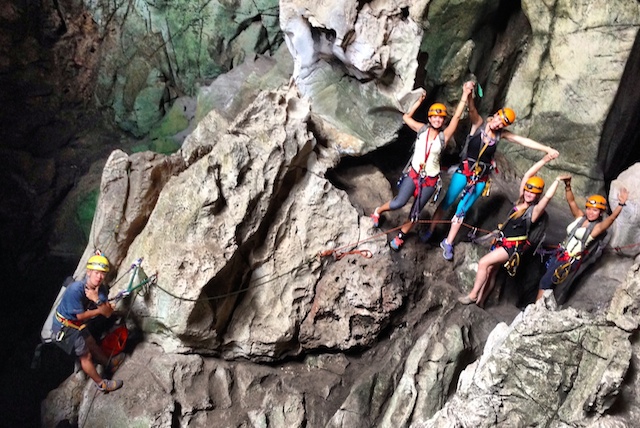 CMRCA is the best!
I can say that going out to Crazy Horse Was by far one of the highlights of my trip. Ooan was a spectacular guide! We felt safe the entire time. He was knowledgeable and helpful. The Caving was beautiful, challenging(in a good way), and so much fun! I would highly recommend this company and the services they provide!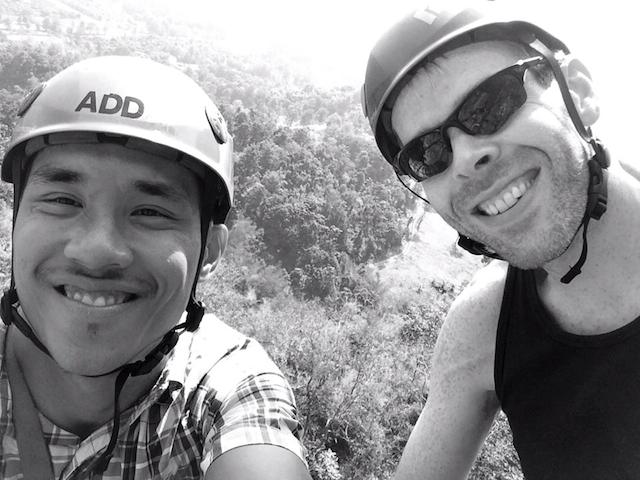 Safe, professional and fun
Completed the multi-pitch intro with CMRCA at Crazy Horse and had a great time. My instructor, Add Konsingh was excellent at explaining the techniques and giving professional tips on anchors. I learned a lot in a couple of days and had a lot of fun in the process. Crazy Horse is a great location to do a climbing course and CMRCA have great guides.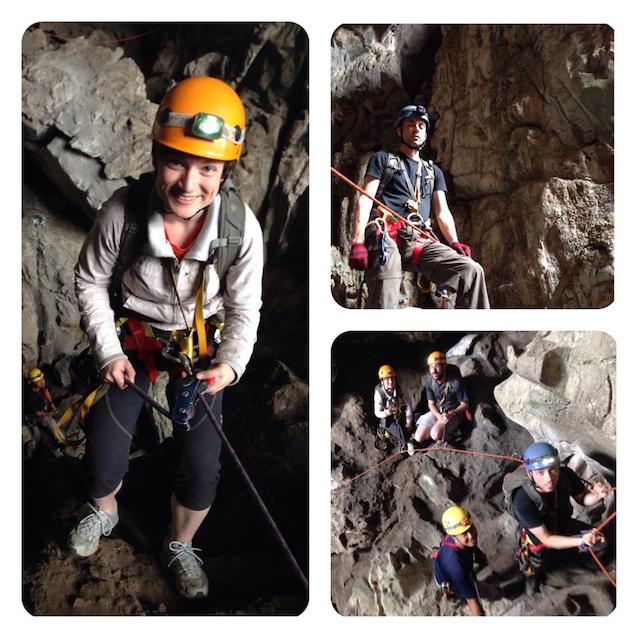 Intro to Caving was great!
My friend and I (two Americans in our early 30s) took the Intro to Caving class, and it was great. Our group was only three travelers and two guides, Ooan and Bo. Ooan and Bo were very professional and overall very nice guys with a lot of patience. The three of us felt very safe knowing that we were in good hands with the guides and the equipment. What a cool thing to do while in Chiang Mai! The cave was amazing! There a few climbs/repels/walks at the beginning of the cave before the big drop into the main part, which was quite a ways down! (You need to save your energy for the way back up!) Once in the main part of the cave, we ate lunch and took our time exploring the different formations – our adventurous buddy from Germany took a walk with one of the guides through some water to a different part of the cave where she saw millipedes and interesting spiders. Learning and using the equipment was a lot of fun. Be prepared to get a massage afterwards!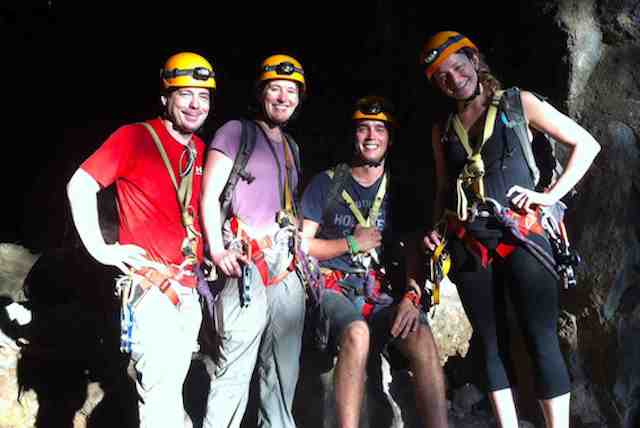 "fun adventure, great company"
My caving trip with CMRCA was the best thing I did in Chiang Mai! The trip was well- organized, and allows you to see some incredible sights deep in the earth. Cannot say enough about the staff; the trip is led warm, knowledgable and safety oriented instructors who are passionate about the sport. I would highly recommend this trip to anyone, especially those who concerned with spending their money with companies who are socially and environmentally responsible- as this is a far departure from your regular tourist operation. Definitely worth checking out!!