Underground Gibbon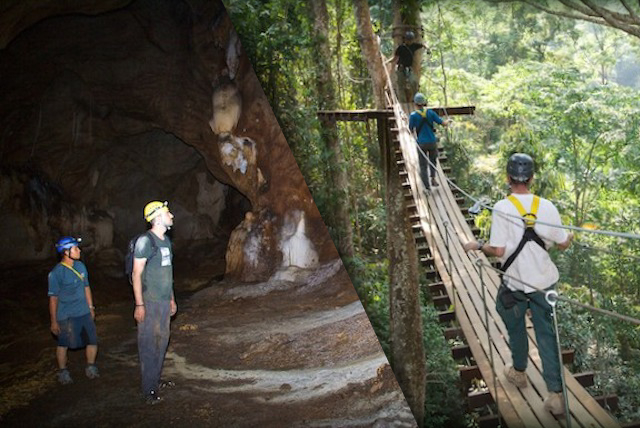 At A Glance...
Includes
Equipment, round-trip transportation from CMRCA to Crazy Horse Buttress, transportation from Crazy Horse Buttress to Mae Kampong Village, 4 meals, 1 night homestay accomodation, 1 hour Thai massage, caving instruction, zipline and hiking guides, insurance, coupon for 20% off anything at the CMRCA adventure store, one day bouldering gym pass, and discount on additional courses.
What to bring
Sports shoes, a rain jacket, personal supplies for one night, and comfortable clothing that you can move in!
Cost
8695 THB/person
Available On
Mon, Tues, Fri, Sat


(subject to change)
***NOTE: Your booking date will be the first day of your two day program. The order of your activities will be determined by availability.
Adventures await you high above ground and deep below it in this spectacular 2-day experience.  Start by making your way outside of Chiang Mai to where limestone karst formations begin to rise above the bamboo forests and rice paddies.  Gear up in the care of our expert instructors, and then head deep underground.  After facing the unknown in a strange, sparkling cave passageway, you'll have no trouble connecting with your host family in the mountain village of Mae Kampong, nor soaring through the air on Flight of the Gibbon's world-renowned canopy zipline.  This tour is designed for the true adventurer.
One highlight of Underground Gibbon is getting to learn the fundamental skills of big-time caving from passionate local cavers. Your tour starts with you being introduced to your equipment. Then take a high entrance into Anxiety State Crisis cave and traverse along the side of the airy main passage before rappelling 30 meters into a gaping black hole.
Enjoy a delicious Thai lunch of sticky rice, northern Thai sausage in the company of bats by the light of your headlamp.  Then spend a few hours exploring the massive river passageway that few have ever seen: discover sparking cave features, encounter bizzare creatures, and wind your way through wild limestone tunnels of white limestone. Finish your day by ascending the rope back to the light of day with the satisfaction of having finished the first stage of a great adventure.
High in the old, green mountains that surround Chiang Mai, the village of Mae Kampong has adopted the home-stay model of tourism. Rather than cut down the old-growth jungle in their mountain valley, they opted to preserve it and invite people to come up and stay in their village to live the quiet life. Choose the bungalow, lodge, or house of your liking with a range of accommodations from authentic Thai to more familiar western style. You will be cooked dinner and breakfast and experience a slice of village life. With temperatures 5-10 degrees Celsius (10-20 Fahrenheit) cooler than Chiang Mai, you may find yourself pulling up the blankets tight for a cozy night.
Ever wonder what it feels like to be an ape high up in the canopy of the trees? Now you get to find out. The morning of the second day is spent with Flight of the Gibbon, flying from tree to tree on ziplines with trained guides. The downhill tour takes you through platforms, cables, sky bridges, and drops for over 2 adventurous kilometers ending high up in one of the most spectacular stands of old growth trees in the Chiang Mai area.
Close your eyes and picture a tropical waterfall plunging through seven tiers of vines and granite cliffs. Feels good, doesn't it? This is where we go after lunch for a little splashing and reflection before heading back into Chiang Mai, where we drop you off for the next stage of your vacation.
Testimonials
Hear from our past adventurers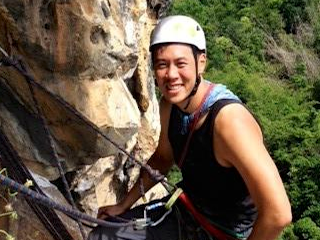 Safe, highly trained, lead climbing experience
I had two days of private guiding and instruction for lead and multi-pitch climbing. I have done it before, but not often enough to feel comfortable going on my own. My guide, Gee, was very thorough and knowledgeable about mountaineering and multi-pitch climbing. He was very safe and he executed proper technique with his anchor and rope settings. While this group costs more than the competitors group, I was able to observe Gee's technique against the other outfits guides and Gee was much safer and practiced under the Colorado Mountain School (US) standards. On the final day, I was able to complete a 4 pitch climb to the top of Crazy Horse. It was a great two days and I recommend this to those who want to climb and to improve their skills. Thanks CMRCA and Gee!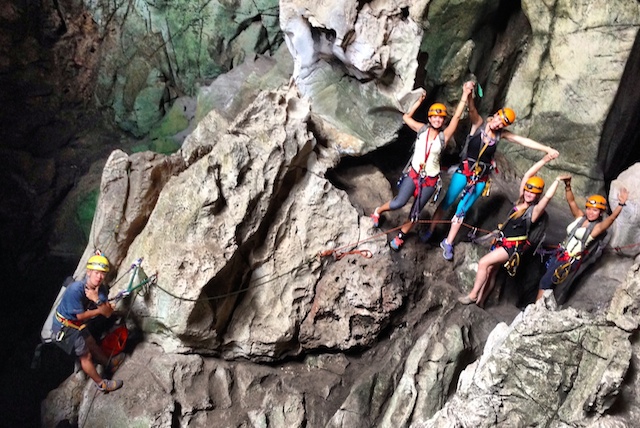 CMRCA is the best!
I can say that going out to Crazy Horse Was by far one of the highlights of my trip. Ooan was a spectacular guide! We felt safe the entire time. He was knowledgeable and helpful. The Caving was beautiful, challenging(in a good way), and so much fun! I would highly recommend this company and the services they provide!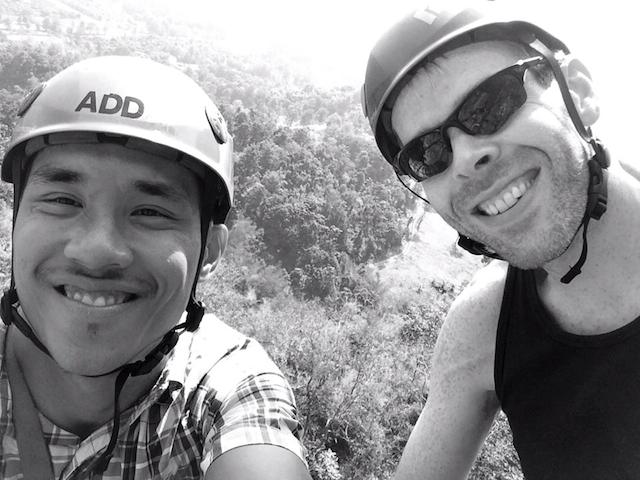 Safe, professional and fun
Completed the multi-pitch intro with CMRCA at Crazy Horse and had a great time. My instructor, Add Konsingh was excellent at explaining the techniques and giving professional tips on anchors. I learned a lot in a couple of days and had a lot of fun in the process. Crazy Horse is a great location to do a climbing course and CMRCA have great guides.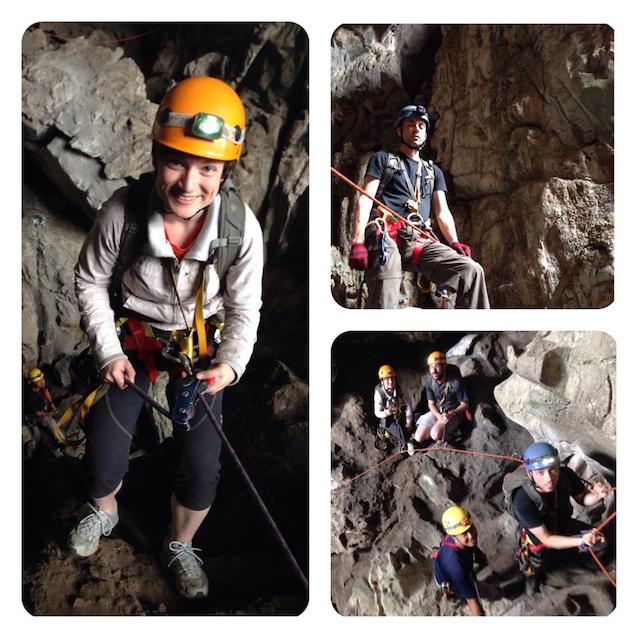 Intro to Caving was great!
My friend and I (two Americans in our early 30s) took the Intro to Caving class, and it was great. Our group was only three travelers and two guides, Ooan and Bo. Ooan and Bo were very professional and overall very nice guys with a lot of patience. The three of us felt very safe knowing that we were in good hands with the guides and the equipment. What a cool thing to do while in Chiang Mai! The cave was amazing! There a few climbs/repels/walks at the beginning of the cave before the big drop into the main part, which was quite a ways down! (You need to save your energy for the way back up!) Once in the main part of the cave, we ate lunch and took our time exploring the different formations – our adventurous buddy from Germany took a walk with one of the guides through some water to a different part of the cave where she saw millipedes and interesting spiders. Learning and using the equipment was a lot of fun. Be prepared to get a massage afterwards!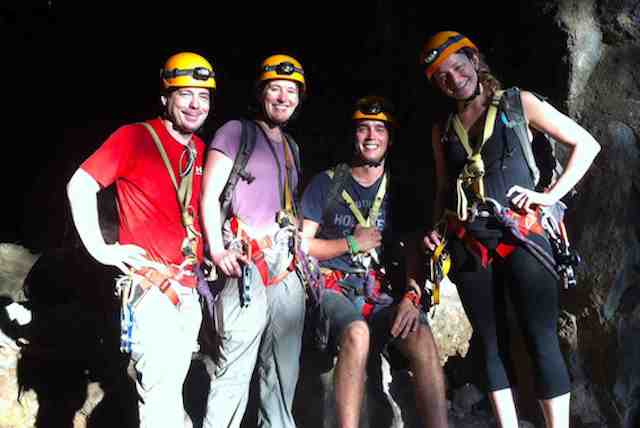 "fun adventure, great company"
My caving trip with CMRCA was the best thing I did in Chiang Mai! The trip was well- organized, and allows you to see some incredible sights deep in the earth. Cannot say enough about the staff; the trip is led warm, knowledgable and safety oriented instructors who are passionate about the sport. I would highly recommend this trip to anyone, especially those who concerned with spending their money with companies who are socially and environmentally responsible- as this is a far departure from your regular tourist operation. Definitely worth checking out!!