AMGA Single Pitch Instructor Certification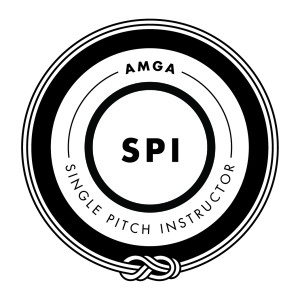 Overview
The internationally recognized Single Pitch Instructor (SPI) Program teaches climbing instructors to proficiently facilitate and instruct the sport of rock climbing in a single pitch setting. This November, CMRCA will host an SPI Course and Assessment facilitated by AMGA Guide Rainbow Weinstock.
Benefits of Certification
It significantly improves the instructor's skill sets and integrates into the next level of training, the AMGA Rock Instructor Course.
The program is for current, active rock climbers who have a real desire to teach rock climbing to novices in a single pitch setting.
The SPI Course is a 27-hour training course that normally runs as three consecutive nine-hour days or day classes with evening sessions.
The SPI Assessment is a minimum of 16 hours run over a two-day period.
Certification lasts for three years as long as the candidate keeps current AMGA Membership and First Aid Certification.
After three years current SPI's can re-take the SPI Assessment to regain the SPI certification.
Taking any higher level AMGA Course also re-certifies the SPI certification for another three years.
How to Get Certified
Step 1: Join the AMGA
If you are not already a member, Join the AMGA at the Professional Membership Level.
Step 2: Prepare for the SPI Course
Get out and train to ensure that you meet the pre-requisites below for the SPI Course. CMRCA offers SPI training programs to prepare candidates for the course. We strongly recommend taking this pre-course as it will greatly increase your chances of passing the course and assessment. It is taught by SPI certified guides.
Pre-Requisites for the Course
You have a genuine interest in rock climbing and instructing novices on single pitch crags.
You are at least 18 years old at the time of the course.
You have at least 12 months prior climbing experience.
You are an active climber with traditional lead climbing experience (leader placing pro).
You have led a minimum of 15 traditional rock climbing routes (any grade).
You are capable of comfortably climbing 5.8 while on a top rope.
Step 3: Take the SPI Course (SIGN UP HERE)
The SPI Course will be delivered by Rainbow Weinstock (bio below) and hosted by Chiang Mai Rock Climbing Adventures.
Dates (maximum 6 candidates per course)
Step 4: Prepare for the SPI Assessment
The pre-requisites for the SPI Assessment are not the same as the course. Please note that taking the course does not mean you will be ready to take the assessment. At the end of the course, your instructor will decide whether or not you are ready for the assessment.  Candidates must provide all of their own equipment for the assessment.  SPI Equipment List
Pre-Requisites for the Assessment
You are a current member of the AMGA.
You have successfully completed an AMGA Single Pitch Instructor Course.
You have led a minimum of 40 traditional routes, most of which should be 5.6 and on a variety of rock types.
You are able to comfortably lead 5.6 traditional routes, which means you place protection.
You are able to comfortably climb 5.8 on top rope.
The SPI Assessment can be taken directly following the SPI Course if the candidate successfully completed the course and meets the assessment prerequisites. However, it is highly recommended that the SPI Course candidate take time practicing and consolidating the skills learned on the course before assessment (6-12 months).
You do not need First Aid training to take the course or assessment. However, it is your responsibility to hold appropriate medical certification for the location that you are working in.
Step 5: Take the SPI Assessment (SIGN UP HERE)
The SPI Assessment will be delivered by Rainbow Weinstock and hosted by Chiang Mai Rock Climbing Adventures.
Dates (maximum 6 candidates per assessment)
Certification Requirements:
Successfully pass the SPI Assessment
Hold current AMGA Membership at the Associate Level or higher
Hold appropriate current First Aid Certification for the area where you desire to work. (Please see the SPI Program Manual for more information on first aid requirements.)
About the Instructor
Rainbow has been fortunate enough to climb, work and adventure throughout the U.S. and abroad, including alpine Patagonia, the Dolomite spires of Italy, jungles of Venezuela, walls of Mexico and the absurdly good Canadian granite.  The tremendous diversity and access of adventure and rock to be found around Boulder is what continues to excite him for the climbing and guiding opportunities nearby. Whether high on the Diamond on Long's Peak or cragging in Eldorado Canyon, Rainbow continues to note that it is just as important who you are climbing with as it is what you are climbing on.
Rainbow worked for the National Outdoor Leadership School (NOLS) for over 12 years and led courses in North and South America in backpacking, climbing, mountaineering and caving. He also helped start the climbing guide service El Potrero Chico Climbing School and Guide Service based in Mexico. Throughout the year Rainbow also teaches credited ice, rock and rescue courses for Colorado Mountain College in Leadville, CO. Rainbow is an AMGA certified Rock Guide and has AMGA training in alpine and ice terrain. Rainbow also teaches AMGA Single Pitch Instructor courses for guides in training.  Rainbow is a published adventure photographer- feel free to get excited for your next adventure by viewing some of his images or contact him directly to discuss a guided climb at www.rainbowweinstock.com.
Additional Resources