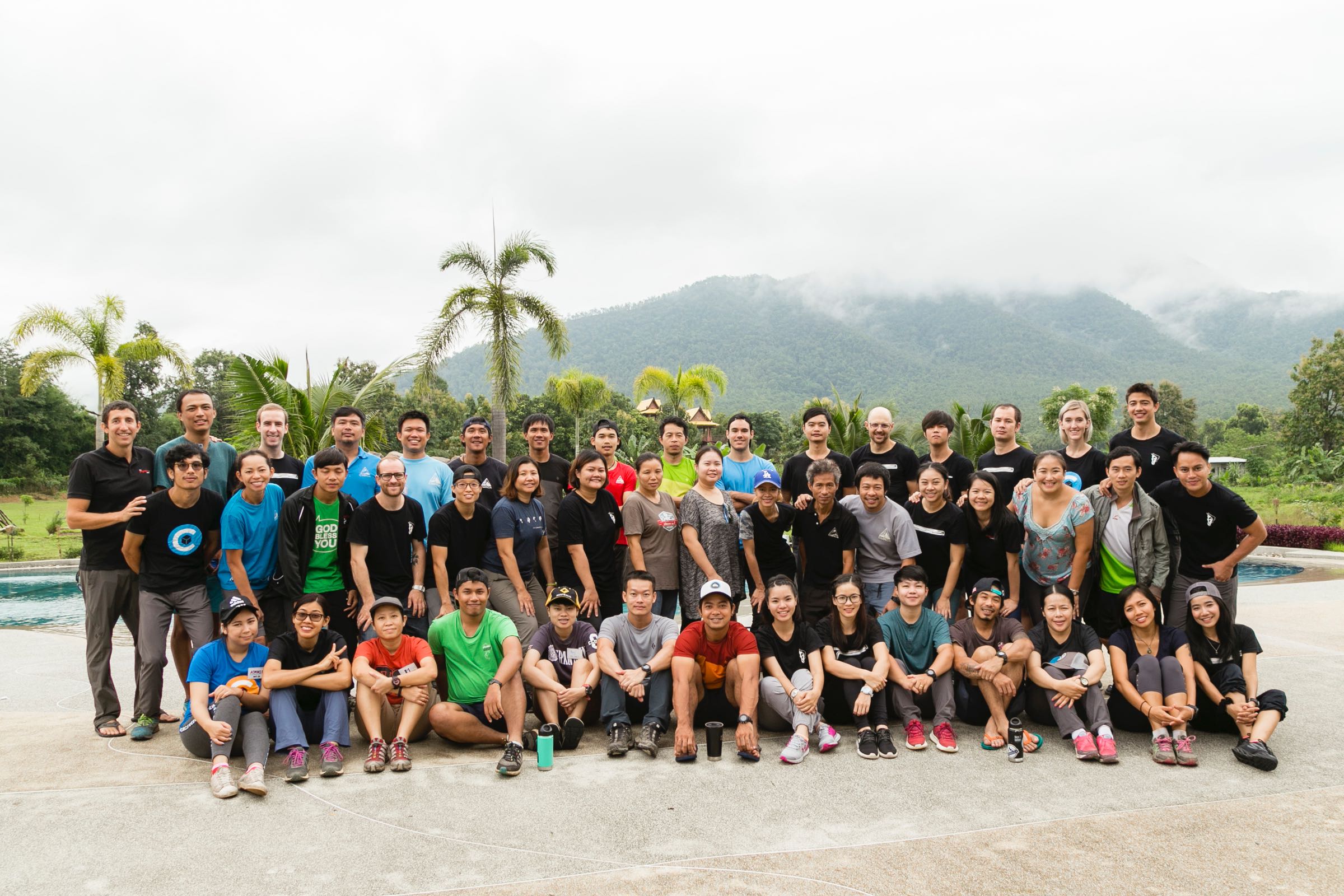 Aliya Greenberg

WORKS AS

Curriculum Development and IT Intern

STARTED ON

08/10/2018

BIO

Aliya grew up in Montgomery, New Jersey a town just outside Princeton, where she attended college. At Princeton, she was staff at the campus rock wall and served as a freshmen orientation trip leader, leading five-day backpacking, canoeing, and rock climbing trips over the years. She has always loved doing anything outside, and those trips showed her how much she loved experiential education as well. Having lived in a 7 mi radius her entire life, she is sooooo excited to be doing what she loves in Thailand, 8500 miles from her house.

Certifications

WFR

Fun fact!

Aliya will shortly be able to do a pullup.

Raheem Barnett

WORKS AS

Curriculum Development and IT Intern

STARTED ON

08/10/2018

BIO

Although he grew up just outside the bustling city of Boston, family camping trips taught him the wonders of the outdoors and inspired a love for climbing and hiking that matured during his college years. At Princeton University, he was staff at the campus rock wall and acted as a freshmen orientation trip leader, taking new students on five-day backpacking trips with a day of climbing. He is excited to continue his interests in outdoor education and computer systems with CMRCA in Thailand, somewhere quite new. When he's not climbing or sitting behind his laptop you can probably find him sketching, dancing, reading, or taking photos at odd angles. He loves to make new friends so if you see him around feel free to say hi!

Certifications

WFA

Fun fact!

Raheem can do a backflip.

Somsak Panyaruean

AKA

Pi Suk

WORKS AS

Housekeeper

STARTED ON

01/02/2014

BIO

A Chiang Mai native, you'll often find Pi Suk cruising around town on his beloved pink bicycle. Before joining the CMRCA family, Pi Suk sold sweet rice crackers and watermelon juice at the Muang Mai market. When he's not busy with chores around the house, he loves to watch dramas and horror movies or bike to the Saturday night walking street.

Fun Fact

Pi Suk's favorite food is mango, which he harvests from the mango tree at his house.

Graeme Anthony Waters

AKA

M

WORKS AS

Apprentice Guide

STARTED ON

07/01/2013

BIO

M had never been rock climbing before joining CMRCA as a trainee guide. At first, rock climbing was very difficult for him, but as he kept practicing, his skills continued to improve. M believes that by working hard and not giving up, you can accomplish things that you thought were never possible. M is a Chiang Mai local and studied sports science at the Chiang Mai Provincial Physical Education College. He enjoys playing computer games, jogging at Huay Tung Tao reservoir, and taking motorbike trips around Northern Thailand.

Certifications

WAFA, SPI, Swift Water Rescue, Technical Rope Rescue3

Suparnisa Thiwato

AKA

Aommie

WORKS AS

Office Coordinator

STARTED ON

09/04/2017

BIO

Aommie grew up in Chiang Mai's Sansai district. She is currently studying Business and Management at Chiang Mai Rajabaht University while also working full-time for CMRCA. Though Aommie doesn't have a lot of free time these days, she loves to see a movie, eat Thai BBQ, or go shopping with friends when she gets the chance.

Fun fact!

Aommie used to work as a barista and you bet she can make a mean cup of coffee!

Paweena Srikumbang

AKA

Ning

WORKS AS

HR Officer

STARTED ON

09/05/2016

BIO

Ning comes from the Mae Taeng district of Chiang Mai. Before joining CMRCA, Ning studied accounting at the Far Eastern University and then worked in accounting and human resources for a number of organizations. Ning's family owns a tea plantation in Mae Taeng, where they also grow coffee, avocado, pomelo, lychee, and a host of other fruits. When she's not working, she loves to go back to her family's farm and help her parents harvest produce.

Fun fact!

Ning likes to pick the tea leaves that other people missed while harvesting.

Sawitree Jinarat

AKA

Fai

WORKS AS

AP Store Manager

STARTED ON

03/04/2013

BIO

A Chiang Mai local, Fai loves to photograph the people, landscapes, and street art of this fascinating city. After graduating from the Chiang Mai Provincial Physical Education College, Fai joined CMRCA as an intern and then full-time associate. Fai believes in the power of the CMRCA family, and her personal motto is "Neither a good job nor a good salary can bring as much joy as good coworkers." Outside the office, she enjoys exploring new coffee shops and finding beautiful places to relax with her friends and family.

Apichat Kokaew

AKA

Tiffy

WORKS AS

Assistant Guide

STARTED ON

05/02/2016

BIO

Tiffy comes from the highland town of Huay Tong Kor in Mae Hong Son province. After working at a school in Bangkok for five years, he moved to Chiang Mai to become a rock climbing guide with CMRCA. When he's not honing his climbing skills at the crag, you'll find him tinkering with motorbikes, cutting his friends' hair, or cruising around Chiang Mai on his KLX 150BF. Tiffy's family always welcomes visitors to come and learn about their Ba Ga Ger Yor culture in Mae Hong Son.

Certifications

WFA

Nongluck Kerdkaew

AKA

White

WORKS AS

Sales Manager

BIO

White comes from the Mae Rim district of Chiang Mai. Working as a server in middle school, she discovered very quickly that she has a passion for working with people. After studying marketing at the Far Eastern University in Chiang Mai, White joined the CMRCA family in 2007. White loves to spend time with her family, travel to new places, and talk with new friends.

Certifications

Tourist Guide License

Natchaya Krudsamai

AKA

Starng

WORKS AS

AP Store Sales

BIO

Work hard play hard and breathe harder.

Fun fact!

Tiny women do something serious and crazy.

Mario Wild

AKA

Mario

WORKS AS

Risk Management Manager

BIO

From the Stubai Valley, Austria, Mario officially joined CMRCA in 2004. With over ten years of bolting experience, Mario "The Rock Whisperer" Wild/Austrain Machine is the best in the biz. A man of many talents, when he's not bolting routes at Crazy Horse you can find him inspecting gear, guiding clients – if necessary in german – leading student programs, co instructing Rescue 3 courses or building climbing walls. He enjoys the simple, makeshift lifestyle of camping and being outdoors, especially when he's trail running and trad climbing.


Certifications

Rock Guide Course, R3 Confined Space Rescue Operator, R3 Swiftwater Rescue Technician Advanced – SRTA, R3 Industrial Rope Rescue Technician, R3 Swift and Flood Rescue Technician – SRT1, R3 Technical Rope Rescue: Technician Level, R3 Tower Safety, Climbing, & Rescue, Climbing Wall Instructor Provider Certification, Wilderness First Responder (WFR)

Fun fact!

The best way to Mario's heart is through his stomach! He loves cooking and eating, so if you need a restaurant recommendation in Chiang Mai, he's the one to ask!

Tanaporn Phophoonsak

AKA

Lookpud

WORKS AS

Coordinator

BIO

I'm a cheerful person! 😬 I love art, nature, and outdoor activities. I'm a cat and dog lover.

Certifications

WFA

Fun fact!

Easy going but serious sometimes.

Sinlawat Taweechau

AKA

Zoom

WORKS AS

Sales

STARTED ON

06/01/2015

BIO

Originally from Bangkok, Zoom moved to Chiang Mai as a high school student and then studied liberal arts at the Chiang Mai Provincial Physical Education College. In his free time, Zoom loves to make epic saves as goalkeeper for his soccer team and to grow his personal business selling Dragon Nest computer game items. On Wednesday nights, you'll find him enjoying 100 baht movies at the Central Festival cinema. Zoom is a fun, easy-going person who loves his work and enjoys continuing to develop professionally.

Certifications

WAFA

Fun fact!

I'm fun, not stressed, and laugh easily. Spreads love in the workplace.

Peeraya Patcharasaksakol

AKA

Nan

WORKS AS

Assistant Guide

STARTED ON

07/01/2017

BIO

Nan grew up on a sugarcane farm in Kamphaeng Phet province, where she helped her father run the accounting for the family business. After studying English at Naresuan University in Phitsanulok, Nan taught English to primary students before moving to Chiang Mai. In her free time, Nan loves to read, watch superhero movies, and adventure in the outdoors. Nan has four adorable cats – Neko, Niyom, Hoppu, and Aorn.

Certifications

WAFA

Fun fact!

Nan is like a duck. Ducks can both fly and swim, but not as gracefully as either the eagle or the fish. Nan has many different talents, but she's not yet an expert at anything.

Alan Avedovech

AKA

Alan

WORKS AS

Director of Adventure Programming

STARTED ON

08/01/2015

BIO

Alan grew up in the mountain town of Park City, Utah, where he discovered his passion for the outdoors. His passion for the outdoors and living adventure lead him to the University of Utah where he earned a bachelors degree in Adventure and Outdoor Programming. After college he shared his passion with others by guiding and teaching outdoor education for activities such as rock and ice climbing, rafting, wilderness medicine and avalanche awareness for the University of Utah and sold outdoor gear at Black Diamond Equipment.

In 2015 Alan joined the CMRCA team and moved to Chiang Mai. Alan has settled into the Thai lifestyle and is helping to drive CMRCA's adventure programming forward as the Director of Adventure Programs while still enjoying the adventures and food Thailand has to offer.

Certifications

AMGA SPI, CWI Provider, WMA WFR, Avalanche Level 1

Fun fact!

He once helped Fred Becky get his ski boot unstuck from his ski binding!

BIO

Josh Morris is the founder and director of Chiang Mai Rock Climbing Adventures. A graduate of Princeton University, Josh has been working in Thailand since 1999. During that time he has helped to establish Chiang Mai as an internationally renowned rock climbing destination. He has served as an advisor to the Sport Authority of Thailand in order to develop safety standards for rock climbing in Thailand. Josh's hard work and commitment has helped to foster a strong rock climbing community which includes two national team members and a medal winner at the recent Asian Indoor Games.

Josh is an experienced leader. He regularly leads student and adult rock climbing, experiential education and personal development programs with Chiang Mai Rock Climbing Adventures.

Josh works and participates with Grand Dynamics Inc., one of the industry leaders in team building and leadership development based in Jackson Hole, Wyoming as well as Outward Bound Professionals (www.outwardboundpro.org), and The Cradlerock Group. He is also a leader for high school cultural immersion programs for the well-respected Where There Be Dragons based in Boulder, Colorado. He is also an active facilitator for the JUMP Foundation. His work with these organizations have made him a highly sought after program leader and facilitator. Josh specializes in helping groups focus on communication, teamwork, personal development and motivation. Josh has brought this skill set to the training of his staff making CMRCA a unique organization in Thailand.

Josh is a certified Wilderness Emergency Medical Technician and is a certified instructor of CPR and First Aid.

Josh is also an avid photographer and has had his photographs published in Action Asia, Men's Journal, Rock and Ice Magazine as well as many other catalogs and publications. Josh is the co author of A Guide to Rock Climbing in Northern Thailand, which has been distributed world wide.

Josh has worked regularly with many organizations in the US and Asia including, Harvard Business School, The Construction Financial Managers Association, Sallie Mae, Thai Authority of Tourism, Sport Authority of Thailand, Sport Climbing Federation of Thailand, The Global Issues Network, The International Sustainable Development Studies Institute, American Pacific International School, Prem Center for International Education, Chiang Mai International School, Lanna International School, US Cobra Gold, and Chinese International School in Hong Kong.